This is where we started, with mud daubing
wasp nests and the mice.
And this is where we ended.
5200 gallons of water storage, insulated and sealed
off from the elements and critters.
This is our own personal HCBR project in our very own back yard.  Not long after we bought this house we discovered that a water storage tank was a good thing to have.  After some research we determined to build a multi-use building that would incorporate the well equipment with a large storage capacity.  We just didn't want to have a tank sitting out on the ground so a well house building was the perfect solution; which grew to accommodate other needs; a potting shed, garden tool and supply storage, a HCBR tool and supply room to clear out the garage, and then an open covered space for the kayaks, riding mower and other tools and equipment.  Yes, the perfect building to house, organize and store a lot of stuff.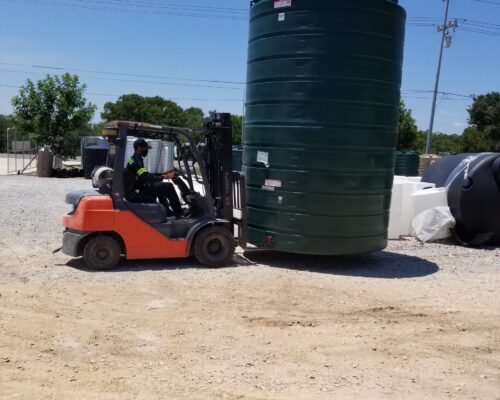 After weighing the options,
A bigger tank seemed to be better.
5200 Gallons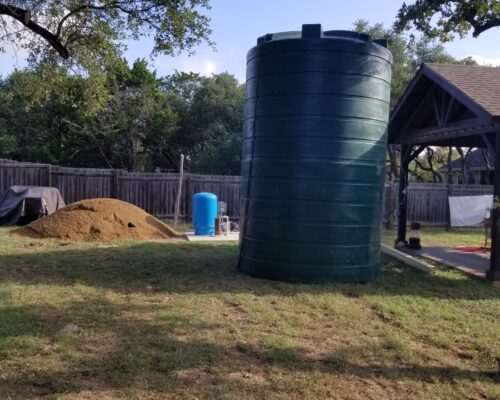 Got er done, but it wasn't easy :-/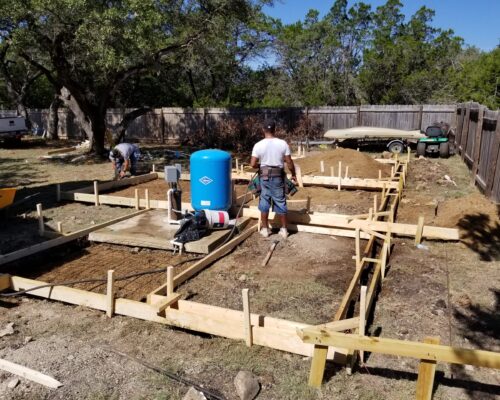 Due to the sloping elevation and the position of the well head,
forming for concrete curbs and slabs was a little tricky.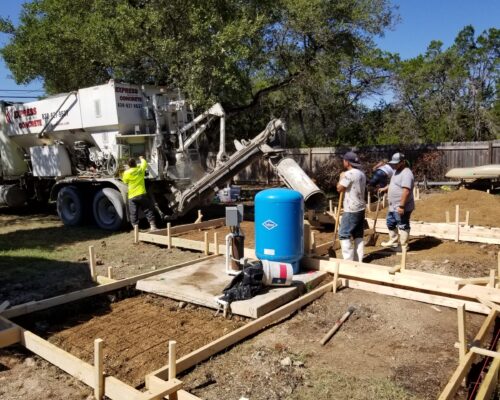 We used Express Metered Concrete Co. which mixes up
the mud on the spot and you only pay for what you use.
Pretty good deal for small jobs under 10 yards.  We used 6.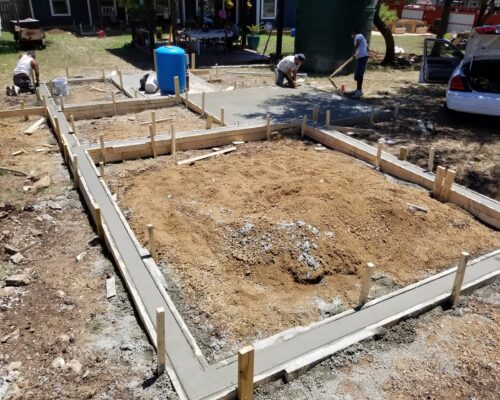 As you can see, we didn't pour a slab in every spot by design.  For example, we wanted to have crushed granite under the tank so it could settle.  The potting shed and covered storage area were also planned for crushed granite which is an excellent economic no mud surface that packs hard.
A little video description helps to see the larger picture.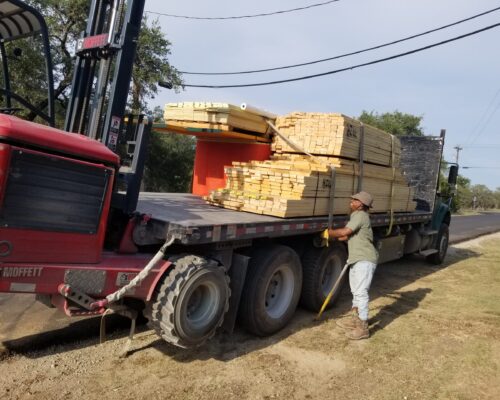 A whole truck load of lumber and OBS Ply to get it framed up.
Good thing this took place before lumber went sky high.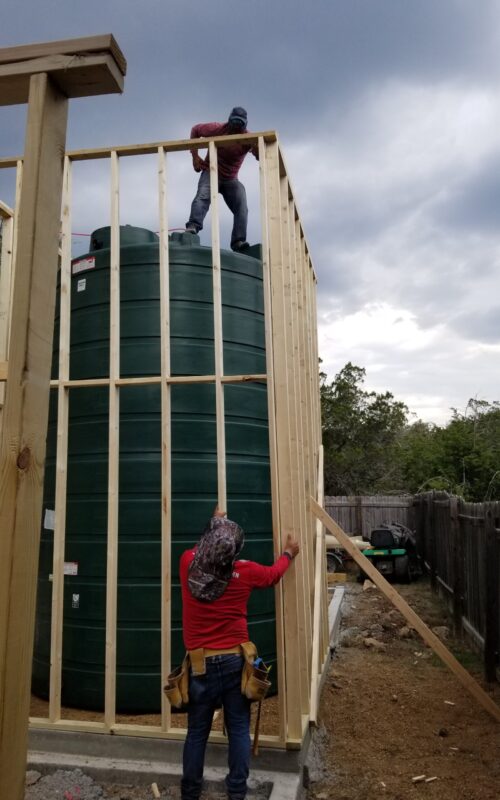 There are certain advantages to building around the tank.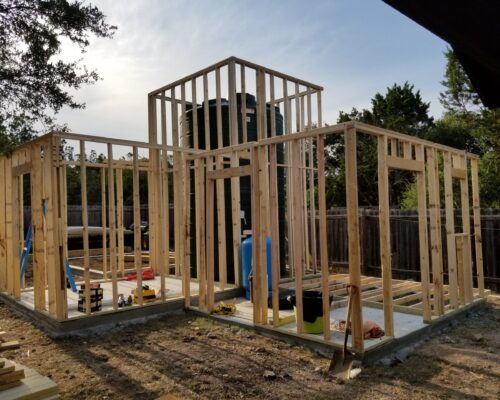 Now it is starting to take shape.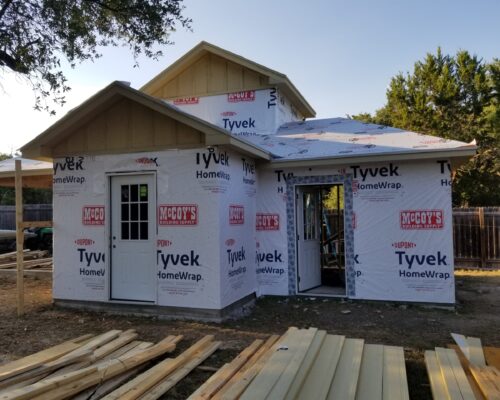 With the synthetic roofing underlayment and exterior walls
wrapped with Tyvek, she's all sealed up and weather proofed.
Ready for a real Texas storm to roll in.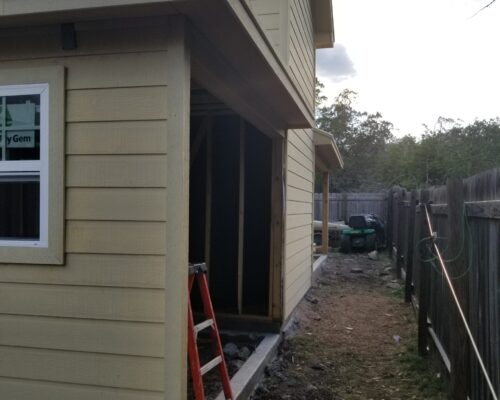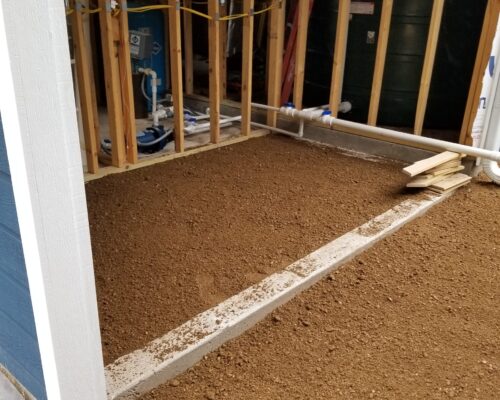 Here in the back is the open "Potting Shed" area with the concrete curb and crushed granite floor covering.  Perfect for an out door work space.
I think I scored some points for this well house feature.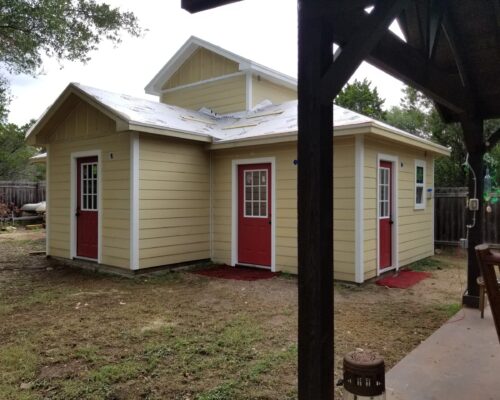 With the siding and trim completed, a little color on the doors start
the color scheme. This developing color mixture is a specialty of
my better half who I have come to greatly trust through the years
of fix up projects we have worked on and completed together.
We always have an ongoing project or two
no matter where we live.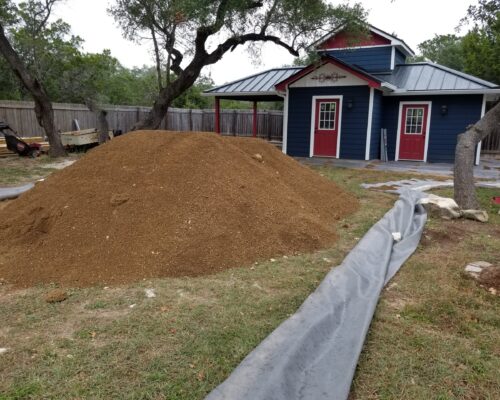 Now with the painting completed the crushed granite is brought in for ground cover with fabric underneath to help keep the weeds out.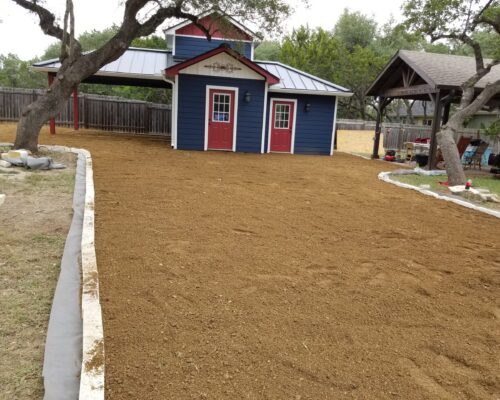 Now, you have got to have some rock borders
to keep everything contained.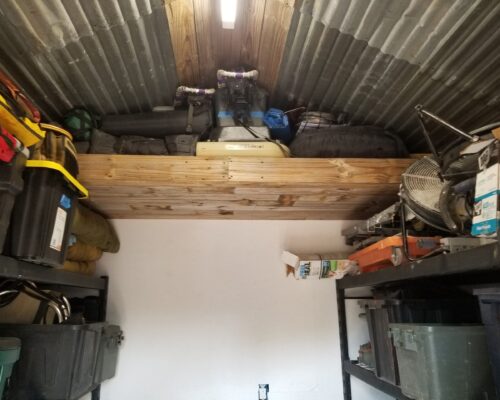 In the inside of the tool room we insulated the walls and ceiling
and hung plywood on the walls, then painted white.  On the ceiling we
used some re-purposed corrugated metal we salvaged from
a large lake house project last year.  In addition, we also used some
re-purposed fencing boards when we replaced our fence.
A lot of re-purposing going on around here.
Tools inside, and tools outside.  This multipurpose building in our back yard really
adds to the Hill Country lifestyle where there seems be just not quite enough space to house the necessities of an active life.
At HCBR Texas, we really like building buildings of all sorts.
Detached Garages and Shops, Steel buildings of all sizes and shapes,
Additions and Casitas.
What's your next awesome project? and how can we help you with that?